Posted over 9 years ago. Visible to the public.
RubyMine: Find and execute a menu action by its name
You are looking for a functionality in RubyMine but don't know or remember its keyboard shortcut or which menu it is located in?\
Hit Ctrl+Shift+A.
This will bring up the "Find Action" box where you can enter an action's name or category. Pick the result from the list to run it.
The list of results will also show you any assigned keyboard shortcuts.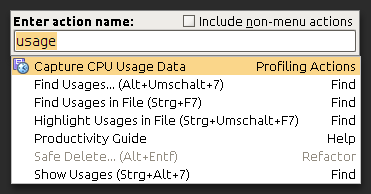 makandra has been working exclusively with Ruby on Rails since 2007. Our laser focus on a single technology has made us a leader in this space.